Neurovascular Gene Therapy
Research Interests
The cerebral vasculature plays a major role in the pathogenesis of many neurological disorders. Dysfunction of the blood-brain barrier (BBB) has been related to some of the most common disorders of the central nervous system such as multiple sclerosis, epilepsy or Alzheimer's disease. Brain endothelial cells play an important role as gate keepers of the BBB. They are essential for maintaining an intact barrier in close interaction with pericytes and astrocytes. Our aim is to investigate the potential of an endothelial-directed gene therapy of neurovascular and neurological disorders.
Our research is based on the development of safe, efficient and target-specific gene therapy vectors. The adeno-associated virus (AAV) is one of the most promising gene delivery platforms as it combines efficient gene transduction with a superior safety profile compared to many other viral vector systems. We use large randomized peptide libraries which are displayed on the surface of AAV (so-called random AAV display peptide libraries) to further diversify the natural viral tropism and to generate AAV particles with affinity for new cellular targets. By employing such AAV display peptide libraries in different screening approaches over multiple selection rounds, we are able to identify efficient and target-specific AAV-based gene therapy vectors for the brain and a variety of other tissues.
We want to bring gene therapy one step closer to the clinic by evaluating our complex techniques for the generation of tailored recombinant AAV vectors in a broad number of pre-clinical models of neurological disorders at the Institute for Experimental and Clinical Pharmacology and Toxicology. In close collaboration with the other research groups at the institute and with international partners we try to push forward the endothelial-directed treatment of neurological disorders
Collaborations
Ayal Ben-Zvi, Hebrew University of Jerusalem, Department of Developmental Biology and Cancer Research
Jan K. Hennigs, University Medical Center Hamburg-Eppendorf, Department of Pulmonology
Nasrul Hoda, Augusta University, Department of Medical Laboratory, Imaging, & Radiologic Sciences
Claus Pietrzik, Johannes Gutenberg University Mainz, Institute of Pathobiochemistry
Martin Trepel, Klinikum Augsburg, Interdisziplinäres Cancer Center Augsburg
Jasmin Wellbrock, University Medical Center Hamburg-Eppendorf, Department of Oncology
Modeling of the 3D structure of a re-targeted endothelial- directed vector with heptapeptide insertion in the virion protein (VP)
Sagittal section of an AAV-BR1-CAG-eGFP treated C57BL/6 mouse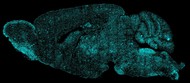 Confocal Image (60x) taken from the cerebral cortex. The endothelial marker CD31 (magenta) clearly colocalizes with vector-mediated eGFP-expression (cyan).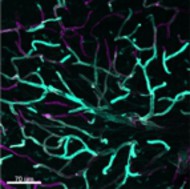 Electron microscopy image of recombinant AAV particles. DNA-filled vector particles are indicated with red asterisks.