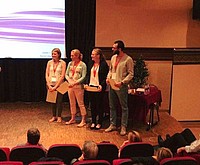 Josephine Lampe has received the price for the best PhD student talk on the 4th European NF-κB Subunit Workshop.
Teaching award to Dr. Walter Häuser
Dr. Walter Häuser receives the teaching award humane medicine of the University of Lübeck. The prize is awarded within the students' semester evaluation. The award ceremony will take palce at October 8th in the course of the welcome reception at the beginng of the winter semester.
Salus-Medal to Prof. Dr. Walter Raasch
At the opening ceremony of the spring meeting of the Pharmacist Association of Schleswig-Holstein Prof. Dr. Walter Raasch was awarded the Salus medal for his extraordinary honorary commitment in further training of pharmacists. This award exists since 1997 and was up to now only awarded seven times.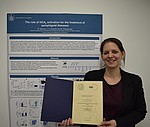 Dr. Melanie Wannick received the 1st poster prize at the 84. Annual Meeting of the DGPT in Göttingen for her topic "The role of HCA2 activation for the treatment of pemphigoid diseases".
Dr. Johanna Schuchard (MD) was awarded on Nov 15th 2017 with the Otto-Roth-Prize for her doctoral thesis entitled "An Angiotensin(1-7)-dependent mechanism contributes to prevention of weight gain under AT1-receptor blockage in rats". The prize is endowed with 2500€ and is awarded yearly for the best doctoral thesis within the medical faculty of the University of Luebeck. See here for more information.
Prizes for "Best Talk" and Poster Prize
At the 41. Hypertonie Kongress/11. Diabetes Herbsttagung Elias Rawish was awarded with the prize "Best Talk", endowed with 550,-. The title of his talk was "Hypothalamic Lipids are normalized in HFD-fed mice when treated mit Telmisartan".
Furthermore, Franziska Schuster received the poster prize for her poster titled "AT1 antagonists prevent metabolic syndrome in mice despite high caloric diet".


Novartis-Prize for therapy relevant pharmacological research
The Novartis-Prize for therapy relevant pharmacological research, which is endowed with 10.000 EUR, was awarded to Prof. Dr. Schwaninger and his colleague Prof. Dr. Nina Wettschureck from the Max-Planck-Institute for Heart and Lung Research, Bad Nauheim.
Dr. Jan Wenzel was awarded with the poster prize from the Deutschen Gesellschaft für Pharmakologie und Toxikologie e.V. (German Society for Pharmacology and Toxicology). The title of his poster was "NEMO in brain endothelial cells maintains the blood-brain barrier".
Dr. rer. nat. Sonja Binder was honored with the Renate-Maaß-Research-Prize 2014 for her outstanding work in the field of brain research. This prize (5000 Euro) is yearly awarded by the Renate-Maaß-Society at the University of Lübeck.
Hui Chen was awarded the 3rd poster prize on the occasion of the 4th Annual Cluster Symposium Inflammation at Interfaces 2013.